MAKE YOUR CHILD'S BIRTHDAY PARTY "UNFORGETTABLE"!!!
THANK YOU for the checking out THE SHAWN REIDA MAGIC SHOW for your child's party!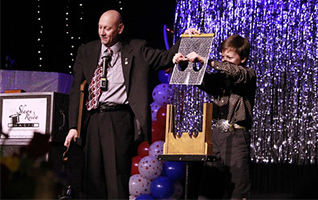 The performance of my Birthday Party show is fast paced and consists of about 20 lively magical effects in about 40 minutes. Even the smallest children will stay interested all the way through the show! (There are few tricks that last over 3 minutes.)

The content and time of the show is adjustable to your needs, but from my experience, I find this to be the best combination.

The magic performed although sophisticated, is age appropriate.

Your child is the star of the show and if they would like, they can help with some of the tricks and at the end of the performance I can bring them up to wave a wand and produce a live rabbit for all the kids to pet after the show. (You will want to have the camera handy because the look on their face is priceless!) Video taping is allowed and in fact, is ENCOURAGED for this show.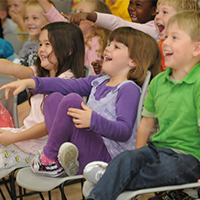 My Birthday Party Magic Show is extremely mainstream. There is nothing in the show that is offensive, off color or anything that would make anyone feel uncomfortable or embarrassed. (You could bring your grandmother, she can sit next to mine!)


During the show there is lots of audience participation and interaction complete with a musical background. After the magic, if it is age appropriate (almost any age is), I can sculpt balloon critters for the kids!
For pricing of my BIRTHDAY PARTY PACKAGE, please call
(316) 755-8016 or e-mail me by clicking HERE.
There is even a DELUXE BIRTHDAY PARTY PACKAGE, which includes all of the above plus an ADDITIONAL SPECIAL MAGIC TRICK PERFORMED FOR THE BIRTHDAY CHILD IN FRONT THEIR FRIENDS!!!!

Please e-mail me by clicking HERE, or call me at (316) 755-8016 for pricing and to reserve the date of your choice! I have had a very busy season with about 40 shows per month so there are only a limited number of time slots available! Please book early.

THANKS and HAVE A TRULY MAGICAL DAY!
---
"Shawn, the children and adults really enjoyed you! Thank you for spending the extra time with Haley, the magician want to be. She was thrilled!"

– Steve & Marty Gilcrest
---
"We had the best time! Zachary's wish when he blew out the candles was to have a birthday party like this forever! This was perfect for us! Thank you again!"

– Mrs. April Touscher
---

---
"Very impressed that this show appealed to kids and adults alike! Thank you so much!"

– Lorraine Alvardo
---